Haworth Art Gallery is located on Manchester Road and is a beautiful Grade II listed country house designed by the architect, Walter Brierley. It is home to the internationally important Tiffany Glass Museum, Accrington Art Gallery and has a lovely tea room, the Gallery Kitchen. The gardens comprise 9 acres of parkland, and admission is free to the house and gardens.
Alison, the manager, says "We're so lucky to have this Tiffany collection brought to Accrington by an Accrington lad, Joseph Briggs. We hope it will inspire the children of Accrington both with its beauty and with his success story, as well as being for adults to enjoy."
Their gift shop holds so many arts and crafts treasures that would be ideal for Christmas gifts. Beautiful journals with covers inspired by Tiffany, at £12.99 for large and £7.99 for small are set to be best sellers.
Across the grounds sits the Artist's Studios. The once derelict Stables and Motor House have been conserved and converted into artist's studios, providing them with a safe space to create and collaborate. Check the website to see when they are open to the public, for you to see the artists at work and buy their creations.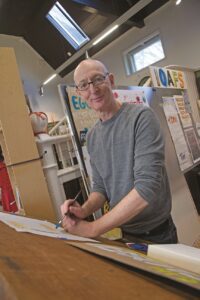 Andrew Scholes freelanced in Graphic Design, then launched his own art based on traditional signwriting. He's been in the Studios for a year, and is know as Scholsey Script. He takes commissions for signs, and also creates art which can be purchased for the home. One of his eyecatching lines is a series of recycled French road maps with French phrases illustrated on them, selling for £75.
Leo Crabtree works in watercolours and pencil, and has been working out of the Studios since they opened. His work features landscapes of the local area, and during lockdown went for discovery walks locally, finding areas he'd never visited. He sketched a lot and they form the inspiration for the paintings he has displayed now. He is also selling a set of 10 Christmas Cards featuring unique images painted in and around the Haworth, for £10.90.
Julie Livesey of Pip Cottage shares space with her daughter, Rebecca of BL Design. She works in basketry, creating beautiful baskets, containers, lanterns  and sculptures such as reindeer and garden arches from willow. It is a historic skill, stemming from use in agriculture and domestic settings. With a background in horticulture, Julie has been growing her own willow which takes 3 years to mature from historic cuttings – she hopes to soon have all her work made from locally grown willow. Julie also runs workshops to pass on this traditional skill, with prices starting from just £15. Her daughter is a talented illustrator and works in portraiture.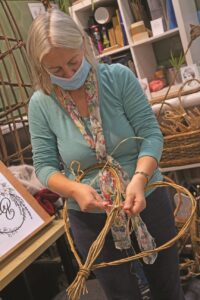 Julie is also researching Lancashire basketry, and would love to hear from anyone who may have information on this once widespread skill.
Steve Crowther has been in residence at the Studios for 3 years. He paints in watercolours, and also digitally on his iPad – these can then be printed for sale. During lockdown Steve wrote a book, 100 Days of Social Distancing, with the paintings and sketches he did every day of the local area. His work includes urban views and night paintings of pubs, along with landscapes. It's for sale for just £12 and is a fascinating view of Hyndburn.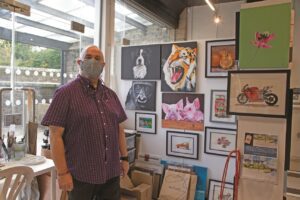 Jane and Alison run Quirky Frog Studios, making bags, masks, cushions and other cloth items from locally sourced cloth. They also hand make beautiful cards, hand written in calligraphy. The two sisters were making items over lockdown both on request, and to keep them busy – they found it very therapeutic. They joined the Studios in September, and having the studio space gives them a chance to meet up and work together in a safe way. They have a great Christmas range and have even made Christmas cushions on request.
Catherine Lansdale runs beginner's art classes. She is a fully qualified art teacher, and the workshops have step by step demonstrations, exercises and a finished artwork. Topics include Reflections in pencil and watercolour, Landscapes in acrylic on canvas, and specialist techniques including Chinese brush painting. The classes are just £25 and would make a really special Christmas gift.
Rounding off the residents are the wonderful Just Imagine theatre company, who are based upstairs. Their events are really special, and if you're in the Studios at the right time you may see a fairy or a witch go by!