#AmazingAccrington, organisers of the 2022 Accrington Food Festival, have revealed updated plans for the main stage at this year's free to attend event, taking place on Saturday 11th June in Accrington town centre from 10am-4pm.
The main stage will be compered throughout by TV Netflix star, award winning cake artist and celebrity chef Molly Robbins, most commonly known for her appearance on Netflix series 'Extreme Cake Makers.'
Molly, who is based in Rawtenstall and whose Mum comes from Oswaldtwistle creating an affinity with Accrington, was recently named 'Global Sugar Artist of the Year' at the ACADA Australasian Cake Oscar Awards. From Australia to Accrington and on the Food Festival main stage, the Netflix star will kickstart the event following the official opening from the mayor, by demonstrating how to fill and cover two of her favourite cakes, amazingly designed in the shape of an elephant and a French bulldog.
The demonstration will showcase how sugarpaste is used to model the face and body parts, texture to create wrinkles, before airbrushing using food colouring to create a realistic shading.
Hyndburn Food Pantry, The Crafty Fox and main sponsors North Lancs Training Group (NLTG) and Property Shop, will then take centre stage for a Ready Steady Cook challenge, which will see teams go head-to-head to produce a meal out of a random selection of easy to source ingredients.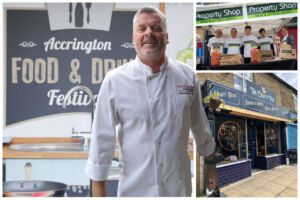 NLTG will soon be back on the main stage to showcase their Catering and Hospitality Apprenticeship, an extremely successful course which offers training in a variety of skills including the use of equipment, correct techniques for preparing food, serving food and drink, and also dealing with customers.
Hospitality Tutor, Paul Maguire, will be treating visitors to the show with a live demonstration of pan fried Goosnargh chicken breast – wild mushroom and asparagus risotto – tarragon jus with crème fraiche, as well as some Arancini balls from the leftover risotto.
NLTG offer Level 2, 3 and 4 Apprenticeships in Catering and Hospitality with roles including Commis Chef, Hospitality Team Member, Production Chef, Hospitality Supervisor, Senior Production Chef and Hospitality Manager. You can learn more about them on their website: https://www.nltg.co.uk/employers/apprenticeships/catering-and-hospitality-apprenticeships/
Following that fantastic live demonstration will be Paul Fox, owner of The Crafty Fox, a local Craft Ale Bar and Eatery based on Abbey Street, who will be creating an extra special dish using amazing local produce, warm pork scotch egg, runny yolk, bulb fennel, apple and wholegrain mustard coleslaw.
Paul's love story with cooking actually began at the Accrington Food Festival, 12 years ago, when he was invited for an interview with ITV's Britain's Best Dish after bumping into them at the show. A successful interview later and he appeared on TV, before roles at the Three Fishes in Mitton and Hare & Hounds in Clayton, led to him renovating and transforming the Crafty Fox.
When asked about his demonstration at the Food Festival, Paul said: "It will absolutely feature local produce, as that's what I believe in. I also want people to be able to cook the same dish at home, and really want to try it."
Food Festival presenter Molly Robbins, commented: "I am extremely excited to be compering the Accrington Food Festival. My mum was born just down the road in Oswaldtwistle, so Accrington is a place very close to my heart.
"The Food Festival is an event which always excites local people and to be playing such a major role in it is wonderful. I just can't wait for it to start!"
Paul Maguire, Hospitality Tutor at NLTG, said: "Risotto is a dish that not many people try at home because they think it is difficult and time consuming. I'm hoping to show visitors to the show that it is actually quite an easy dish to create."
Stacy Walsh, organiser at The Food Pantry, commented: "Some very good meals can be made with very simple ingredients. The whole aim of the Ready Steady Cook challenge will be to show our audience what can be done with some really basic items."
Steven Chippendale, Managing Director at Property Shop, added: "The Food Festival is one of those community events that is talked about for weeks before and months after, and we are really excited to be sponsoring the event but also to be taking part in the Ready Steady Cook challenge with some other fantastic businesses."
With limited available space remaining, organisers of the Food Festival, which takes place on Saturday 11th June, Amazing Accrington, are encouraging local businesses to book their food stalls now. For more information, contact editor@amazingaccrington.co.uk