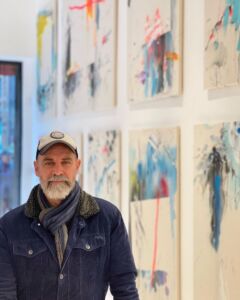 '/di'still' is a solo exhibition from contemporary fine artist Iain H. Williams. It will be on display at Haworth Art Gallery in Accrington from 19 March to 22 May.
With free admission and other treasures in the gallery to explore, such as their tiffany glass collection, the new exhibition is predicted to attract visitors from far and wide.
Gillian Berry, Manager and Curator at Haworth Art Gallery is looking forward to welcoming both new and familiar faces to the gallery this spring:
"It is a pleasure to host this new exhibition to Haworth Art Gallery. Not only is it inspired by our local town and by elements from the Tiffany Collection here at the Haworth, the paintings represent a progressive ongoing journey, which is relatable for all. It is a wonderful addition to our other exhibitions here and offers even more variety for guests. Our gallery is free to visit and I would encourage everyone to come along and enjoy these fantastic pieces whilst they are here."
Iain's work is inspired by contemporary artists such as Howard Hodgkin, Cy Twombly, Jenny Bronski and Jason Craighead who, over the years, have helped him to hone a simplistic notation of marks and composition.
The elements in the paintings may not necessarily be recognisable, they are based on both physical and metaphoric subjects inspired by Accrington. From this inspiration Iain makes marks with paint, stencils and more, introducing subtle references from his research and experience of the area.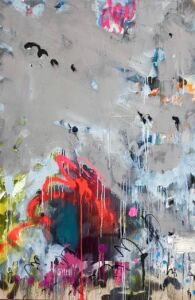 Iain H. Williams, Artist:
"This collection has been inspired by the urban environment in Accrington and Haworth Art Gallery is the perfect place to host. Wandering around Accrington Town Centre I have photographed markings and surfaces to distill into a body of paintings, whilst also playing with negative space.
"I have used key elements found around the town and the Haworth Collection to inspire these abstract pieces, using a range of materials and methods such as staining, spray paint, charcoal and acrylic."
Iain's pieces tend to be created in two or three stages, with the markings simplistic, immediate and not overworked. This gives the work a sense of 'spontaneity' and immediacy.
Haworth Art Gallery is open Wednesday to Sunday, 12pm to 4pm.