Here at North Lancs Training Group we're delighted to see the return of the Accrington Food Festival, the first one since 2019 and bigger and better than ever before.
We have been involved in many of the food festivals as a main sponsor and couldn't wait to get involved and sponsor the event again this year! There are so many great activities lined up throughout the day, all around Accrington town centre.
There are over 50 food, craft & drink stalls, a continental market on Broadway, and the Market Hall is open with a DJ with children's entertainment, free face painting, pop up stalls, inside and outside market, as well as free children's crafts.
Live cooking demonstrations start at 10.30am at the main marquee, with local Celebrity Chef, global award winner and Netflix star Molly Robbins demonstrating her 'Extreme' cake decorating techniques.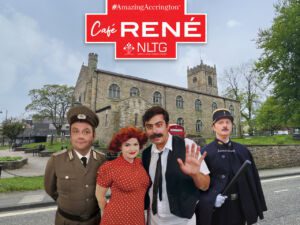 At 11.30am there is a Ready Steady Cook competition with chefs from The Food Pantry, Crafty Fox – and North Lancs Training Group, as well as fellow main sponsors Property Shop! This will see teams go head-to-head to produce a meal out of a random selection of easy to source ingredients.
At 1.30pm NLTG will be back on the main stage to showcase our Catering and Hospitality Apprenticeships, an extremely successful range of courses which offer training in a variety of skills including the use of equipment, correct techniques for preparing food, serving food and drink, and also dealing with customers.
Hospitality Tutor, Paul Maguire, will be treating visitors to the show with a live demonstration of pan fried Goosnargh chicken breast – wild mushroom and asparagus risotto – tarragon jus with crème fraiche, as well as some Arancini balls from the leftover risotto.
NLTG offer Level 2, 3 and 4 Apprenticeships in Catering and Hospitality with roles including Commis Chef, Hospitality Team Member, Production Chef, Hospitality Supervisor, Senior Production Chef and Hospitality Manager. You can see more about the courses here: https://www.nltg.co.uk/employers/apprenticeships/catering-and-hospitality-apprenticeships
At 2.30pm Paul Fox from Abbey Street's Crafty Fox will be creating a warm pork scotch egg made from local produce.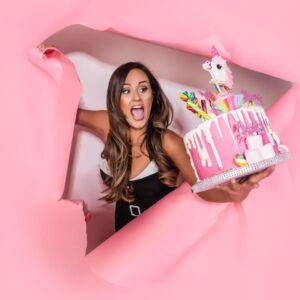 3.30pm sees Molly Robbins return with more of her amazing extreme cake decorating.
You can see an impressive replica Spitfire in the Town Square, as the event is also to commemorate D-Day.
We have put together a Café Rene – themed café in 1940s dress, just like the extremely popular TV sitcom Allo Allo! This can be found in St James Church grounds, with proceeds going to the church. It's open from 10am.
We've also got characters from Allo Allo to interact with guests – and they will put on a short performance to start the war re-enactment. We also have a cameo appearance from our MD Gareth Lindsay.
There are 1940's singers within St James Church grounds at 12pm, the Cafe Rene Allo Allo short performance at 12.30, and a war re-enactment at 1pm that's a must see – ending with the Lone Piper tribute to HM Queen in this Platinum Jubilee year.
Food Festival presenter Molly Robbins, commented: "I am extremely excited to be compering the Accrington Food Festival. My mum was born just down the road in Oswaldtwistle, so Accrington is a place very close to my heart.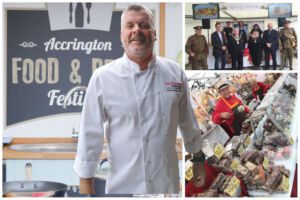 "The Food Festival is an event which always excites local people and to be playing such a major role in it is wonderful. I just can't wait for it to start!"
Paul Maguire, Hospitality Tutor at NLTG, said: "Risotto is a dish that not many people try at home because they think it is difficult and time consuming. I'm hoping to show visitors that it is actually quite an easy dish to create."
Gareth Lindsay, Managing Director of NLTG, said: "North Lancs Training Group can't wait to be involved with the pop-up Café René and we would love to see visitors of all ages there for a brew and a croissant. Plus you'll even get the chance to see characters from 'Allo 'Allo!"
You can see more about what's going on, at www.amazingaccrington.co.uk