Organisers of the 2022 Accrington Food Festival and D-Day Commemorations, #AmazingAccrington, have launched an exciting competition, giving Hyndburn's youngsters the opportunity to win a rare copy of a German map of Accrington from World War II.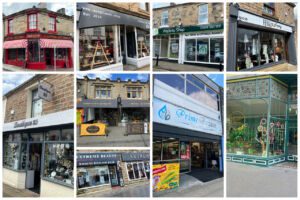 As part of those D-Day Commemorations, the D-Day trail competition sponsored by Accrington & Rossendale College will see children under 12 from 36 primary schools invited into Accrington town centre on Saturday 11th June with the task of visiting nine shops before 12pm, collecting stamps along the way.
When all nine shops have been visited, the participants must visit the full size Spitfire static display outside Accrington Market Hall for their final stamp and to collect their copy of the original German map of Accrington from WWII.
Shops taking part in the trail include Extreme on Water Street, Space 2 Make, Croppers Butchers & Deli and Property Shop on Blackburn Road, One Planet on Abbey Street, Boutique 23 and Feral & Funky on Warner Street, Plantology in the Arcade, and Stitch By in the Prime Bazaar on Union Street.
Flyers will be delivered to schools throughout Hyndburn, with children and an accompanying adult or guardian over 18 invited to enjoy the fun and to #ShopLocal.
Murray Dawson, Chair of #AmazingAccrington, commented: "We are delighted to be able to provide the young people of Hyndburn with a little bit of history for them to keep and cherish.
"With only 100 of the rare maps available, we recommend getting down to Accrington early on 11th June to avoid disappointment.
"We would also like to say a massive thank you to Accrington & Rossendale College for sponsoring the competition, and to all the shops who are involved in the trail, which we hope will encourage more people to #ShopLocal."
Morag Davis, Centre Principal for Accrington & Rossendale College, said: "What a wonderful initiative to be involved in. This is an activity which all our young children can join in with and what a fantastic way to kickstart a busy day of D Day commemorations and the Accrington Food Festival."
The D-Day Trail is part of a full day of D-Day commemorations taking place in the town on Saturday 11th June, including a war re-enactment including 'Allo 'Allo characters, a magnificent replica Spitfire plane and a '1940's scene.'
Download and print the trail 👇🏻
AmazingAccrington Food Festival & War Re-enactment
Also a limited number of these Trail Maps will be available in the shops for you to collect on the day or from the main stage at Accrington Food Festival on Saturday, 11th June.