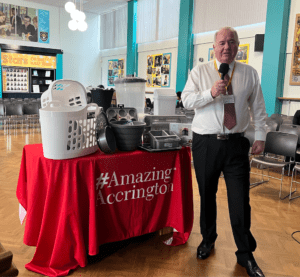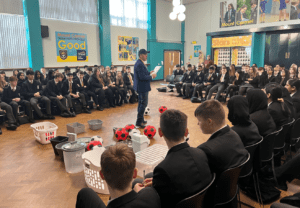 Business leaders What More, Scott Dawson Advertising and Sundown Solutions took time out of their schedules to attend a special assembly at Mount Carmel RC High School in Accrington recently. What More were keen to discuss their vision about the future of plastic, local tech company Sundown Solutions attended to inform the students about their options on working in cyber security and career paths as developers, and Scott Dawson discussed marketing and employability skills.
As part of an #AmazingAccrington initiative to bring schools and employers closer together, Tony Grimshaw of What More was keen to explain to the school that 'Not all Plastic is Drastic', and although the Government are bringing in measures to eliminate single use plastic waste, their products offer a sustainable use of plastic, being re-usable, durable, and recycling other plastic items such as margarine tubs, with a zero to landfill approach.
Will Fort of Sundown Solutions joined the company straight after sixth form and is keen that others follow his path into this rapidly growing industry. It was useful and inspiring to show students at an early age that working in software development and cyber security is similar to using the gaming devices they use at home, and requires the same skills. Learning this in high school will help them in their future career choices, and educational pathway choices.
What More Director Tony Grimshaw OBE, explained: "This generation are very aware of environmental issues, and it's great to be able to explain to them our green credentials and how not all plastic is bad. Hopefully we'll see some of them in the future as apprentices, we have plenty of opportunities in engineering and really pride ourselves on training our own workforce."
Will Fort of Sundown Solutions added: "I'm not much older than the students so they find it really relatable when I talk to them about gaming and how you can take that into a career locally. I hope they feel inspired to take it up as a career, and hope they join us at Sundown soon!"
Murray Dawson, Chair of Amazing Accrington, commented: "It's a pleasure to showcase Amazing Accrington businesses through our schools programme, we get great feedback and they're always enthusiastic. With over 1700 registered businesses in Hyndburn, there is a future career for everyone."
#AmazingAccrington have launched a new area of their website for Opportunities, showcasing education, training, apprenticeships and opportunities. This can be found here: https://opportunities.amazingaccrington.co.uk
Sundown Solutions wish to ensure they recruit local people, who don't need to have a technical background. They have open vacancies. If you have the drive and determination they are looking for, apply now via www.sundownsolutions.com
What More UK manufactures storage boxes and housewares of all kinds including bakeware, around-the-sink items, products for the home laundry, utility room, and items for the garden like planters and troughs. What More's products are all made here in East Lancashire and are sold in 75 countries around the world. You can see more on their website: www.whatmoreuk.com