Two of Lancashire's most loved food companies have joined forces to bring greater choice to consumers across the North West seeking convenient, tasty food.
Award winning food companies, Fazila Foods and Clayton Park Bakery, have decided to work together, sharing resources and expanding their customer reach.
Clayton Park Bakery, who supply pies and baked goods to Liverpool Football Club and SPAR retailers across the North of England will now be working together with Bolton manufacturer of ethnic inspired food products, Fazila Foods Ltd.
Fazila Foods started when home cook, turned entrepreneur, Fazila Malek began using traditional Asian recipes to produce a range of innovative handmade ready meals with the freshest and finest ingredients. Fazila soon built a reputation for her exceptional culinary skills. Within just two years of trading the business had to move production from a home kitchen to a 6000 sq. ft. manufacturing facility.
The business proved so successful that by 2020 it had to relocate again, this time to a production facility with an impressive 15580 sq. ft.
Together Clayton Park Bakery and Fazila Foods identified a gap in the convenience foods market. To develop a new range of Asian street food products, like spicy samosas, onion bhajis, fresh wraps and a delicious range of curries, all designed to appeal to the UK's multicultural society and demand for delicious ethnic foods.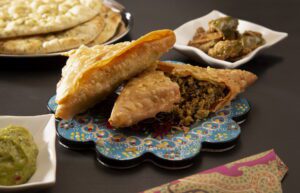 The new venture will see Fazila Foods join Clayton Park Bakery in the family of James Hall & Co., one of Lancashire's largest employers with over 3000 staff. James Hall & Co. Ltd are the primary distributor to SPAR stores in the North of England.
Fazila Foods are already available in SPAR outlets around the north of England, but this latest development brings with it the potential to expand that distribution even further. SPAR operates approximately 2600 stores across the UK.
Barry Thomas, Founder and Managing Director of Clayton Park said:
"We are very excited about bringing Fazilas authentic range into our product portfolio. I am sure we can provide some unique recipes that will help both businesses to develop van sales and strengthen our businesses in the market."
Fazila Malek, Founder and Managing Director of Fazila Foods said:
"We're looking forward to a positive future working with Clayton Park Bakery and James Hall & Co. With these great businesses we're expecting to strengthen a secure and successful future for our staff and customers."
"The partnership of Fazila Foods and Clayton Park Bakery is a true meeting of East and West, and this is reflected in the products we are offering. It's a fusion in every sense of the word."