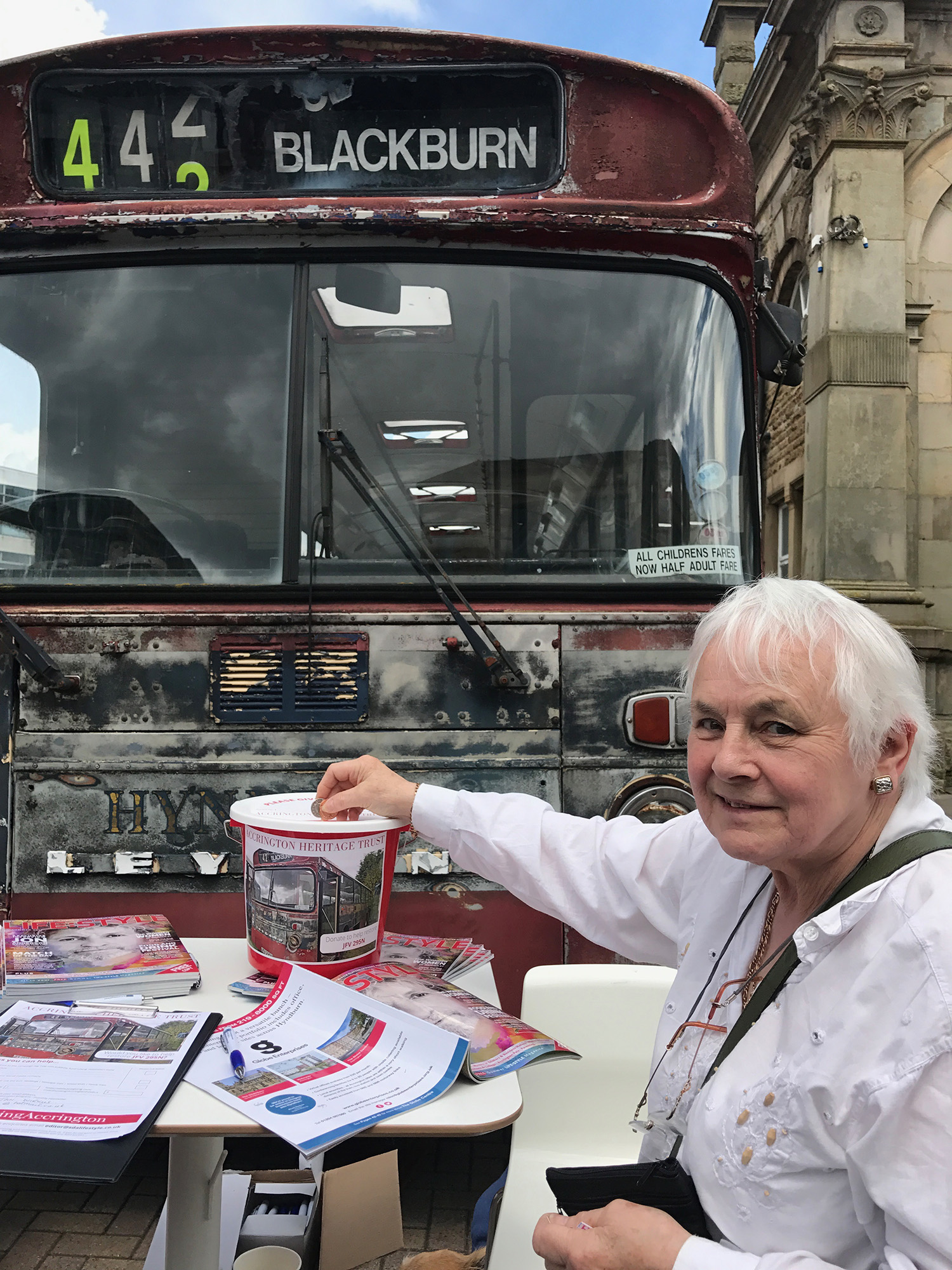 This vintage vehicle, a 1975 Leyland Leopard, is one of the last known surviving buses of its type in the world, and the only one painted in the original colours of the Accrington Pals Battalion.
The bus is owned by Accrington Heritage Trust, a local charity, and the plan is to restore the bus to a modern safety standard, so that it is available to tour local historic sites and for use by schools and other local organisations.
As a first step we are seeking funding for a project to simply get the bus into a roadworthy condition. We will be grateful for any help however small.
Supporters will receive a digital copy of the certificate above, and those donating £100 or more will receive a framed copy. If possible we will try to contact you via JustGiving to confirm the details, but if you don't hear please contact us at accrington-heritage@outlook.com
The History of the Bus
The Accrington Pals bus is one of the last remaining examples of a Hyndburn Transport vehicle painted in the blue and red colours of the 11th Service Battalion (Accrington) East Lancashire Regiment, better known as the Accrington Pals.
The bus is now owned by Accrington Heritage Trust and is being preserved with the intention of restoration and conversion for use as a community resource.
Leyland Leopard JFV295N, Hyndburn fleet number 42, was constructed as chassis number 7401305 in 1974 but it was not until February 1975 that this and identical chassis 7401304 were bodied by East Lancs Coachbuilders with their then new Elizabethan coach bodywork. Only three such bodies were ever constructed numbered 3101-3, two on a Leopard chassis for Halton Borough Transport (Widnes) (registered as JFV294N and JFV295N) and a further one on a Seddon Pennine chassis (registered as STC986M) coincidently for Accrington Corporation as fleet number 38.
Upon delivery to Halton they became fleet numbers 8 and 9 intended for private hire and coaching work. The coach bodies became increasingly troublesome and the decision was made in 1983 to re-body both coaches as service buses with East Lancs bodies numbered A3406 and A3407.
In 1988 Halton Transport deemed the two Leopards to be surplus to requirements and the pair were bought by Hyndburn Transport as fleet numbers 41 and 42. However neither entered immediate service with Hyndburn but were hired out to Badger Buses of Sussex and painted in Cream with deep Blue skirts. This arrangement only lasted until January 1989 and during the subsequent year JFV295N was hired to Abbeyways and Stuarts for short periods.
It was not until July 1990 that fleet number 41 was painted in the blue and red 'Accrington Pals' livery and September 1990 that number 42 was re-painted.
The blue melton and red pinstripe were the dress colours of the Accrington Pals Battalion when it was formed. The material was given by Burtons but was unpopular with the troops as they felt it made them look like tram conductors. These colours were adopted by Accrington Transport Committee for their first buses in 1928 along with black window frames.
With the takeover of Hyndburn Transport in 1996, the two Leopards passed to Stagecoach Ribble and no.42 (now no. 942) remained in the Accrington Pals livery but was withdrawn from service in 1997. It was purchased for preservation in March of that year. No. 41 continued in service and was purchased in Green Bus of Walsall later that year. It eventually went to scrap.
Number 42 was stored in the open until 2017 when it was acquired by Accrington Heritage Trust and is now in indoor storage with Town and District Transport Trust in Great Harwood.
For those technically-minded the Leyland Leopard chassis that underpins the bus is the PSU3B/4R. 'PSU' refers to Passenger/Single Decker/Underfloor Engine, although other sources suggest the 'P' was used originally by Leyland to denote buses with pneumatic tyres. '3' denotes that this is the 3rd generation Leopard introduced in 1961 with a length of 36 feet to exploit changes in regulations that allowed for longer vehicles and 'R' refers to right-hand drive for the UK.
'B' is part of a sequence of letters used to denote improvements in design to the first model. B models have an improved gearbox over earlier ones. '4' refers to one of four different options within the chassis. 'Build 4' have a semi-automatic 'pneumo-cyclic' gearchange with manual selection and automatic clutch and were intended as coaches with a slightly shorter length and higher ratio differential for faster long-distance use.