What More UK, the Lancashire housewares manufacturer and exporter, proudly count themselves as founder members of Made in Britain and support the future of British manufacturing, training their own apprentices and exporting goods all round the world.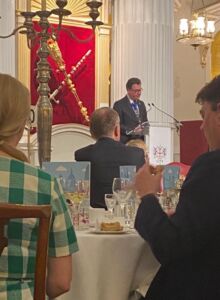 Recently they were honoured to be invited to represent Lancashire, and Lancashire manufacturing at a special Lord Mayor's Dinner at the Mansion House in London. The Lord Mayor of London is an elected position dating back to 1215, and the current, 693rd position is held by Vincent Keaveny, who works as a partner in the international law firm DLA Piper.
Among the duties of the Lord Mayor is to present London and the United Kingdom to the world as a leader in trade, financial technology, innovation in areas like cybersecurity and green finance, and in culture. Invited to the dinner, and seen as vital for their roles in manufacturing and technology, representing Lancashire were:
Khalid Saifullah MBE DL, Managing Director of Star Tissue Ltd
Deyrick Allen, Managing Director of IOT Horizon Ltd and
Tony Grimshaw OBE, Director of What More UK Ltd.
The event began with a welcome speech from The Lord Mayor of London, Vincent Keaveny and inspirational speeches from the Secretary of State, Kwasi Kwarteng and the President of the CBI, Lord Karan Bilimoria CBE DL, followed by dinner.
Tony Grimshaw OBE, Director of What More UK Ltd, commented: "To be with Khalid and Deyrick, representing Lancashire and Lancashire manufacturing, was a very proud moment. Letting the world know just how well Lancashire makes many, many things brilliantly well, is a labour of love for all three of us. The good wine and exceptional food was a definite bonus as well!".
What More UK is one of the largest houseware manufacturers in the UK. They manufacture storage boxes and housewares of all kinds including bakeware, around-the-sink items, products for the home laundry, utility room, and items for the garden such as planters and troughs. What More's products are all made in East Lancashire and are sold in 76 countries around the world. More can be seen on their website here: www.whatmoreuk.com