Donate to help restore an Accrington Pals liveried bus this Christmas and receive a specially designed, personalised gift certificate.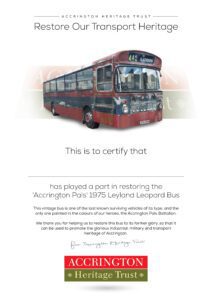 This vintage vehicle, a 1975 Leyland Leopard, is one of the last remaining examples of a Hyndburn Transport vehicle painted in the blue and red colours of the 11th Service Battalion (Accrington) East Lancashire Regiment, better known as the Accrington Pals.
The bus is owned by Accrington Heritage Trust, a local charity, and the plan is to restore the bus to a modern safety standard at a cost of £14,000, so that it is available to tour local historic sites and for use by schools and other local organisations. It is currently housed at the Town & District Transport Trust in Great Harwood.
If you're looking for an unusual and worthy Christmas gift, a beautifully designed gift certificate is now available on the website for all donations. Supporters will receive a digital copy of the certificate, and those donating £100 or more will receive a framed copy, posted anywhere in the UK.
We thank you for helping us restore this heritage bus to its former glory, so it can be used to promote the glorious industrial, military and transport heritage of Accrington. It's vital to preserve our heritage for future generations, so we shall never forget.